Groundbreaking technology being tested at Walter Reed National Military Medical Center allows amputees to feel things through their artificial limbs.
Brian Tobias lost his leg in a motorcycle accident five years ago.
"It was just an unlucky day," he said. "Someone else was having an accident, and we caught the back end when everyone is dipping and dodging," he said. "I don't even know how I survived to be honest."
The accident derailed his career in the Navy.
"First there's a realization, 'OK, now I have one leg,'" he said. "I tried to do everything within a wheelchair – making my bed, cooking, cleaning. It was hard; it was rough."
Tobias was fitted for a prosthetic leg and got a service dog to lift his spirits. He made strides but said he never felt comfortable in a traditional socket prosthetic.
Then he heard about a clinical trial at Walter Reed in Bethesda.
"What's unique about osseointegration is that it's transdermal," Navy Cmdr. Jonathan Forsberg said. "It comes out of the skin to connect with an external prosthetic. Patients who have difficulty with socket-wear may benefit from osseointegration."
Forsberg is a pioneer in the field of osseointegration and says the technology works just like a dental implant does.
First, doctors fuse a titanium implant into the bone and let it heal. Three months later, that rod is pulled out through the soft tissues and skin and the prosthetic arm or leg latches directly to the implant, much like an artificial tooth is anchored into the jaw. It can take months to fully recover, and the biggest risk is infection.
"It was scary at first because you have this rod sticking out of your leg," Tobias said. "Over time you feel your strength returning. You feel these crazy twitches and you're like, 'What is that?' because that's your muscle growing back. So you almost feel like Popeye without the spinach."
By connecting the prosthesis to the bone, patients become more sensitive to surfaces, allowing them to touch and feel through their artificial limbs.
"[Brian] can tell the difference between wood, linoleum, gravel and concrete when he walks," Forsberg said. "I think that's tremendous."
Years after he lost his leg, Tobias said the sensation has returned. A wet kiss from his service dog gets his attention.
"He decided to lick my right foot and I was like, 'Yo! What are you doing?' But for me to ask him what he's doing means that I felt it first," he said.
Not only is his pain and discomfort gone, his balance has improved. He's boxing now, logging an hour of physical therapy each day and doing things he never thought he would do again.
"I have my life back," he said. "I have nothing to hold me back anymore but me," he said.
As science and medicine evolve, doctors say the concept of the bionic man may become a reality in the not-too-distant future.
"We can create a man or woman in machine scenario where the patient can intuitively think, 'Open fist,' and the fist opens on a prosthetic or robotic limb," Forsberg said. "Through the osseointegration program here at Walter Reed, we're recruiting patients to do this exact procedure."
Anyone who's eligible for care within the military healthcare system can apply to be part of the osseointegration program. Walter Reed plans to have the results of their clinical trial in two years.
With the dramatic advancements in bionic prosthetics that have been taking place in recent years, they are rapidly becoming a commonplace option. No longer do amputees have a limited choice when it comes to artificial limbs; the future of bionic prosthetics is very much in the here and now. When someone loses a limb or is born without one, daily tasks are made more challenging, and for many years the limited nature of prosthetic limbs has caused difficulties for users, and a certain stigma amongst sections of the public.
The current generation of prosthetics has come a long way from the armorers of the Middle Ages, where the first notable prosthetic limbs were made. Using strong, inflexible iron, these were heavy and made it extremely difficult to control or have any sort of functionality. In the nineteenth century, there was a significant change when J. E. Hanger, started manufacturing prosthetic legs after losing one of his own in the Civil War. His company, which was founded in 1861, still exists today. Another amputee named D. W. Dorrance, unhappy with the lack of prosthetic arms available to her, invented the terminal device. Otherwise known as the hook, this is still used today, albeit in more modified versions of the original. This was considered a substantial advancement for amputees because it gave them back some semblance of their prehension skills.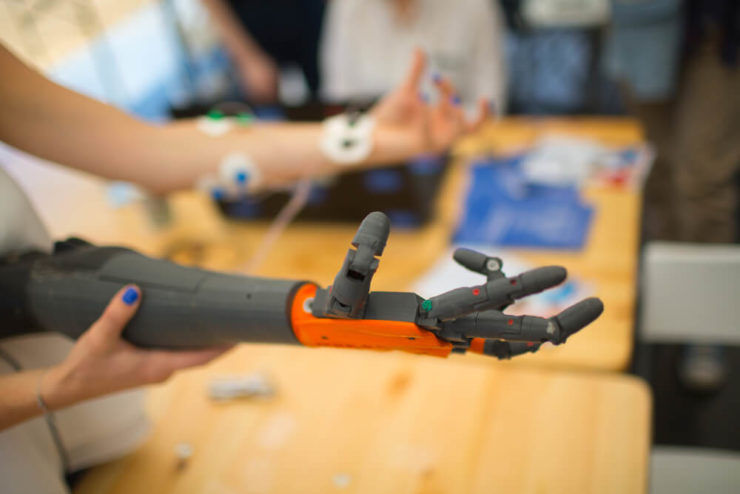 Now, with the current generation of prosthetics, the bionic age appears to have arrived. With the backing of major tech investors like Tej Kohli, robotics projects with practical, life-improving goals are now where innovation is being focused. Rewired Open Bionics, a project backed by Kohli and the venture studio Rewired, have produced the first clinically tested, medically certified and FDA registered 3D bionic arm. The Bristol-based medical start-up has revolutionized prosthetics, making bionic arms more affordable, aesthetically pleasing, and at the very top of their technological game. Although this development is impressive, it is not totally unexpected – Open Bionics was named one to watch by Forbes magazine this year.
SEE ALSO
Market and trends grow for cannabis news and social media businesses
The company is currently working with the NHS England on a world-first clinical trial, to make affordable bionic arms for children. With a successful trial in July 2017, they'll be rolling out the second wave of trials across a number of NHS clinics. They've even managed to work with Disney on themed designs, which could help children build their confidence by helping them to connect more with their prosthetic.
According to Open Bionics, there are an estimated five billion amputees globally. It's therefore important to create prosthetic devices that are not only technologically advanced but affordable and discreet as well. As robotics becomes more and more advanced, these devices will become more sophisticated, driven by the start-ups and research projects pioneering robotics development.
Robotics and technology are being developed more rapidly than ever before and it won't be long until these bionic prosthetics will be functioning just as well, if not better than human limbs.